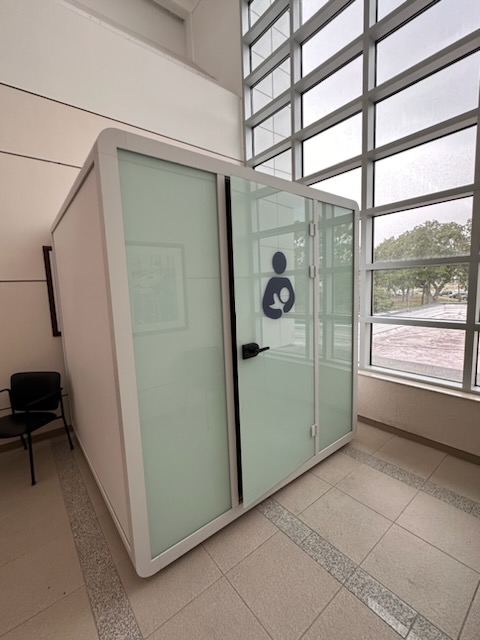 ADA Compliant Lactation Pod
BrighterBooth adds an ADA model to their line of mobile lactation pods.
With up to 84″ of turn around space, BrighterBooth's ADA Compliant Lactation Pod exceeds the ADA's requirement of 60″ of turn around space. Like all of BrighterBooth's all-inclusive lactation pods, their ADA model comes fully furnished with a wheelchair ramp, mirror, bench, side table, LED lighting, ventilation system, power outlets, USB ports, and extra space for a mini-fridge or baby gear.
ADA Compliant Lactation Pod
Wheels for easy relocation.
Dimensions: 92.5H x 86.6W x 82.7D in. (49.7 sq. ft.)
32.1″ door width.
60″ of wheelchair turn around space.
35-40 dB of sound dampening.
Fully furnished.
Latching and locking door.
Low pile carpeted floor.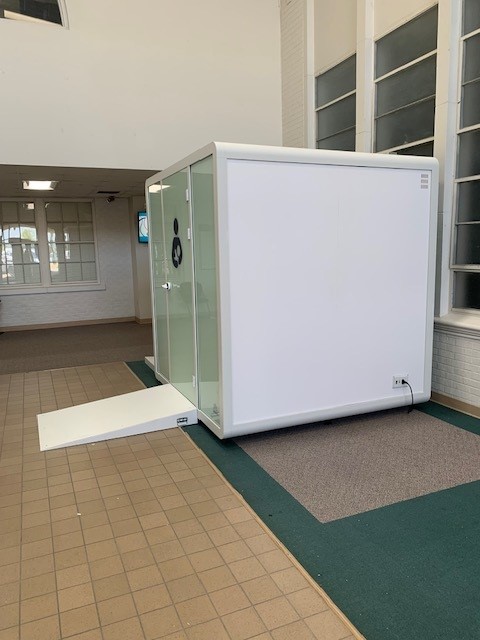 Breastfeeding and pumping accommodations are lacking in the workplace and in public spaces, which makes the experience of a new mother making their way through the world frustrating. Every mother has the most important job in the world, and all moms have the right to breastfeed and deserve a dedicated space to pump wherever they go.
Adding a lactation pod to your workplace not only supports nursing mothers, it also increases productivity, strengthens company culture, reduces employee turnover, attracts top talent, and supports a diverse workforce.
Providing lactation accommodations isn't just good for business, it's also the law. The Fair Labor Standards Act (FLSA) requires employers to provide break time and a private space for breastfeeding and pumping employees. A variety of other federal, state, and municipal laws require additional accommodations for nursing moms. California, for example, leads the way in breastfeeding laws.
To receive a turnkey quote including delivery and installation, request a quote below:
Request a Turnkey Quote: